MediaMatrix® Launches nCIE PILOT® Industrial-Grade PC for Life-Safety VACIE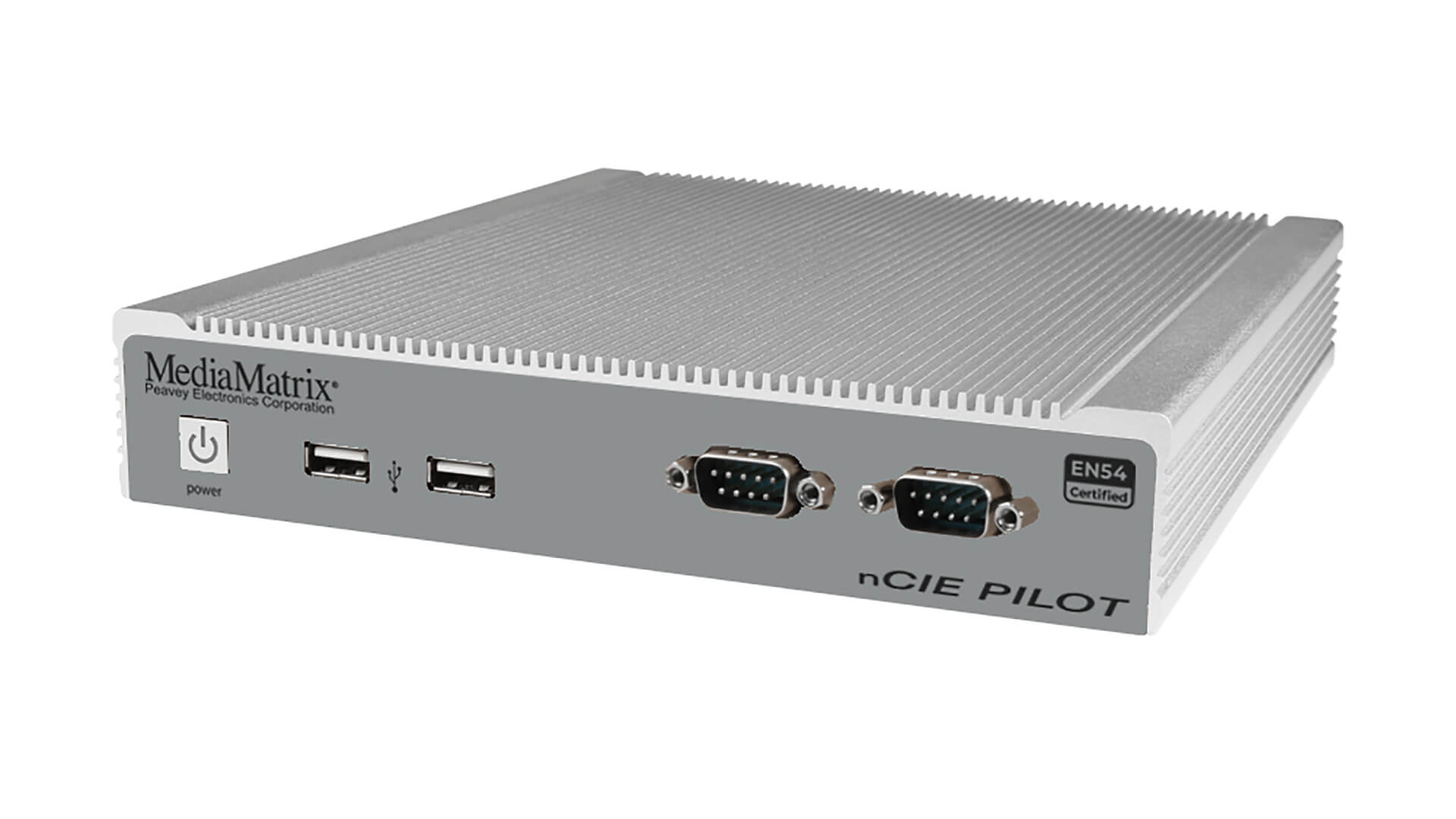 Reliable control and monitoring is everything  in mission-critical life-safety systems, and the new nCIE PILOT® from MediaMatrix®,  is an industrial-grade PC that's built for the challenge. Tested and certified to the EN54-16 European Standard, the nCIE PILOT is designed to work in conjunction with the NION® Series of digital signal processors (DSPs), also EN54-16 certified, and a host of third-party devices under the MediaMatrixNWare software suite. Together, these vital components form a life-safety VACIE (Voice Alarm Control and Indicating Equipment) system that's designed to endure the rigors of industrial environments.
As the brains of the system, the nCIE PILOT performs all logical operations for fault detection and reporting VACIE wide. Powerful Python scripting is utilized to survey and manage all 3rd party devices within the VACIE and will alert the systems operator on the event of any system non-conformance. In addition,the PILOT hosts the graphical user interfaces for the operators through the award winning Kiosk2Go® HTML5 based MediaMatrix application. As a headless system Kiosk2Go provides intuitive and versatile remote control capability with fully customizable graphics authored in NWare.
The nCIE PILOT strikes the perfect balance between energy efficiency, performance, versatility and durability making it a machine built to last.  Enclosed in a ruggedized, fanless and ventless chassis  the PILOT resists dust, metal shavings, and other debris that are standard hazards on manufacturing floors thanks to its HardshellFanless Technology . The fully solid-state  architectureeliminates points of failure and relies on the superior design of the integrated heatsink to keep internal components cool.
Despite its small footprint, the nCIE PILOT is equipped with an array of IOs (inputs/outputs), including VGA and HDMI, and is capable of powering dual-independent displays, including one at 4K resolution. Dual-gigabit Ethernet LAN, three optional COM ports, and six USB ports, including four USB 3.0 ports, round out the available built-in connectivity. The nCIE PILOT is accompanied by an optional 2U rackmount adaptor allowing two PILOTs to be buddied together that can be configured independently or as  an N+N redundant auto fail-over configuration.
Users are provided additional reassurance with the EN54-16 certification that both the MediaMatrix nCIE PILOT and NION Series DSPs have been awarded. The EN54 certification is a mandatory standard that specifies, requires, and laboratory tests every component of fire detection and fire alarm systems. Part 16 of the certification specifically pertains to voice alarm control and indicating equipment. This certification speaks to the industrial-grade quality of MediaMatrix's equipment, as well as its stable, efficient, and robust performance.