BC Place, Vancouver, Canada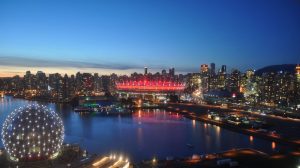 BC Place stadium has been a part of Vancouver's skyline for more than 25 years, hosting live events from the opening ceremonies of the 2010 Olympic games to sold-out Rolling Stones concerts. But as time and technology marched forward, this 60,000-seater remained virtually unchanged. When it came time to update the venerable BC Place, its directors invested in a completely modern renovation, including the largest retractable roof in the world and the most powerful installed P.A. system in North America.
This incredibly powerful sound system is based on a MediaMatrix® NION® distributed digital audio system that controls and monitors 150 power amplifiers. It's also the first hybrid project that uses Audinate's Dante protocol to make two different systems communicate with each other. MediaMatrix delivers the program audio via the Dante transport protocol to the power amplifiers and provides control and monitoring of individual amplifier outputs back to the system operator. The MediaMatrix nControl™ allows the system operators to listen to the audio from any amplifier in any zone in the facility, and passes control information to the various NIONs in the system through project linking, which allows the system to be broken apart into logical sections that can operate independently of one another.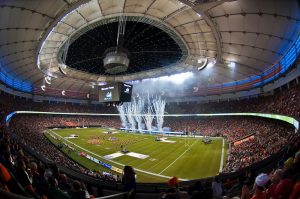 The main audio system consists of two NION n3 processors, plus another pair for backup and six NION nX processors for output monitoring. When implemented intelligently and logically, this type of design can allow a system to be considerably more robust and allow planned downtime in parts of the system while not affecting the functionality of the overall system.
The Dante transport protocol, operating in compliance with TCP/IP and a standard UTP packet structure, allows the networked audio and control data to be concentrated on fiber links to simplify distribution to remote amp racks in the arena's overhead catwalks.
(6) MediaMatrix NION n3 Dante DSP
(6) MediaMatrix NION nX DSP
(1) MediaMatrix nControl