Peavey Commercial Audio® Announces New UK Sales Strategy
Peavey Commercial Audio® announces that moving forward, the company will handle its own sales and consulting for its commercial audio division in the United Kingdom. These core functions were handled previously by the company's UK distribution partner, Barnes & Mullins, which will continue to distribute the Peavey® line of musical instruments and live sound products. By embarking on this new sales strategy, PCA and B&M will create new and exciting opportunities and maximize the reach of Peavey's state-of-the-art products and solutions.   
"As we move into a new decade which poses a modern set of challenges, we are excited to be addressing the UK market directly again and working closer with consultancy and integration businesses for fixed installation systems," said James Kennedy, PCA EMEA Operations Manager. "With Barnes & Mullins concentrating on the live entertainment sectors, we believe that both B&M and PCA can specialize, utilizing their strengths in each respective market."
The new strategy comes as Peavey Commercial Audio and Barnes & Mullins approach the three-year anniversary of their initial distribution deal, which added PCA's full product range to B&M's offering. These brands include Crest Audio®, MediaMatrix®, and the full line of Peavey professional products. Going forward, B&M will continue to market and sell Peavey sound reinforcement products and Crest Audio live performance products, including the innovative Tactus™ digital mixing system, Versarray™ MKIII and Versarray PRO powered line array systems, and the new fully featured ProTour™ multi-channel DSP/Dante amplifiers. These product lines naturally complement Barnes & Mullins' musical instrument and back-line portfolio, which completes the concert and touring offering from B&M, a company celebrating its 125th anniversary this year.
"Barnes & Mullins are pleased to continue the supply and promotion of Peavey MI and Pro Audio products," comments Brian Cleary, Barnes & Mullins' joint managing director. "Peavey and Crest Audio have an enviable reputation in both the Musical Instrument and Sound Reinforcement market, and with recent highlights such as the Tactus digital mixers and the Versarray PRO systems, Peavey's innovative approach to design and production is once again evident."
Meanwhile, PCA will focus on fixed installation and systems solutions that go directly to integration businesses. PCA's flagship MediaMatrix and Crest Audio multi-channel smart/networked amplifiers will be at the heart of these efforts. EN54-16 certification for MediaMatrix NION® processors and the recently launched nCIE PILOT® control PC form a versatile life-safety system and an innovative platform to introduce to the UK market. The PCA UK team based in Corby, Northants will serve as a support backbone and hub for consultants and integrators, and will assist with design, programming, training, and technical support matters. Product will be housed and shipped into the UK from Germany.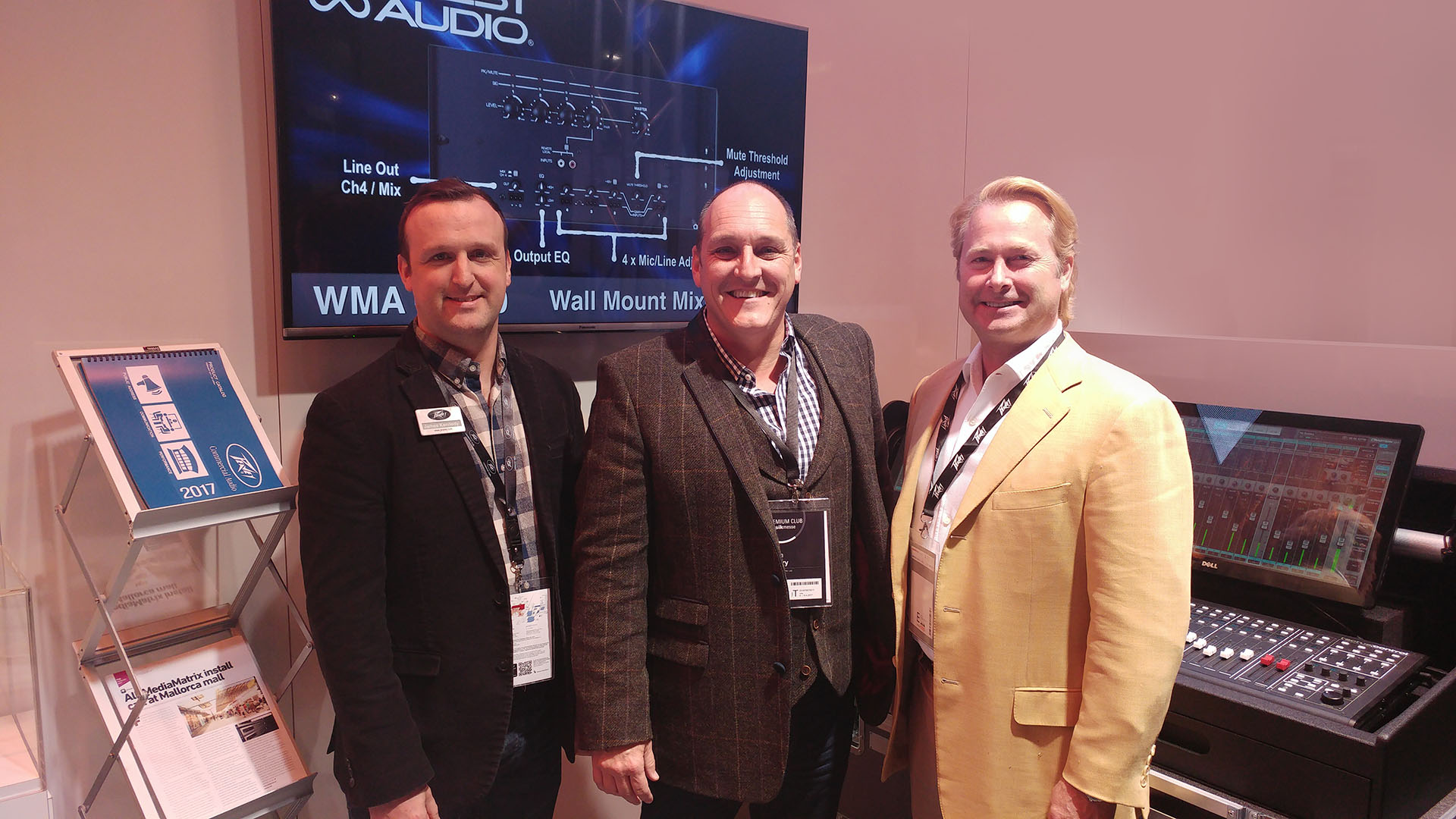 f.l.t.r.: James Kennedy, Brian Cleary, Courtland Gray