Qatar National Convention Center
Located minutes from Qatar's central business district in the heart of Education City, a global hub of ideas and innovation including elite universities, research and technology institutions, the new Qatar National Convention Centre is an unparalleled modern convention facility,
boasting iconic design and cutting-edge facilities in a world-first green-technology venue.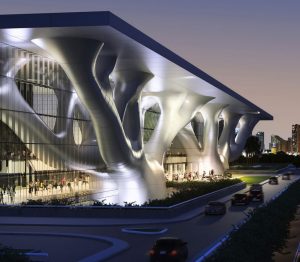 This world-class space—the first of its kind built to the gold certification of U.S. Green Building Council's Leadership in Energy and Environment Design (LEED)—features a distributed audio and video system anchored by MediaMatrix® that connects QNCC's 431,000 square feet of exhibition hall, 52 meeting rooms and public spaces that span luxury lounges, hospitality suites, exhibition foyers, a 2,300-seat theater and three additional tiered auditoriums.
Such a varied-use complex required support for all manner of digital audio—everything from background music to broadcast—and every area needed central as well as local control capabilities. With 82 MediaMatrix NION® n3 processors and 91 CAB™ 4n units connected over
CobraNet, the audio enginners at QNCC can send audio to any location on the network. More than 150 miles of fiber optic cabling connect the outlying systems to a central room where the audio team can also monitor the condition and status of power amplifiers on the network.
"The MediaMatrix NIONs are the backbone of the system," said Ahmed Abdel Kadar, projects engineer with Techno Q in an interview with Pro Audio Middle East. "They can combine the whole building so you can, for example, have one source and send it to any room."
(82) MediaMatrix NION n3 processors
(91) MediaMatrix CAB 4n